REGISTRATION CHECKLIST 2023-2024
WELCOME TO THE 2023-2024 SCHOOL YEAR!
Annual Demographic and Emergency/ Medical Information Forms hosted in PowerSchool
Please complete all annual forms by:
Tuesday, August 1, 2023
How to find the annual Forms:
Log into PowerSchool– CLICK HERE
Please Contact Jay Dosanjh if you need assistance logging in.
*Please note, when you log into PowerSchool, you will see last year's classes. This is intentional, we will release full schedule information on August 14.
1. Click Forms— located in the middle of the left navigation bar
2. Select Enrollment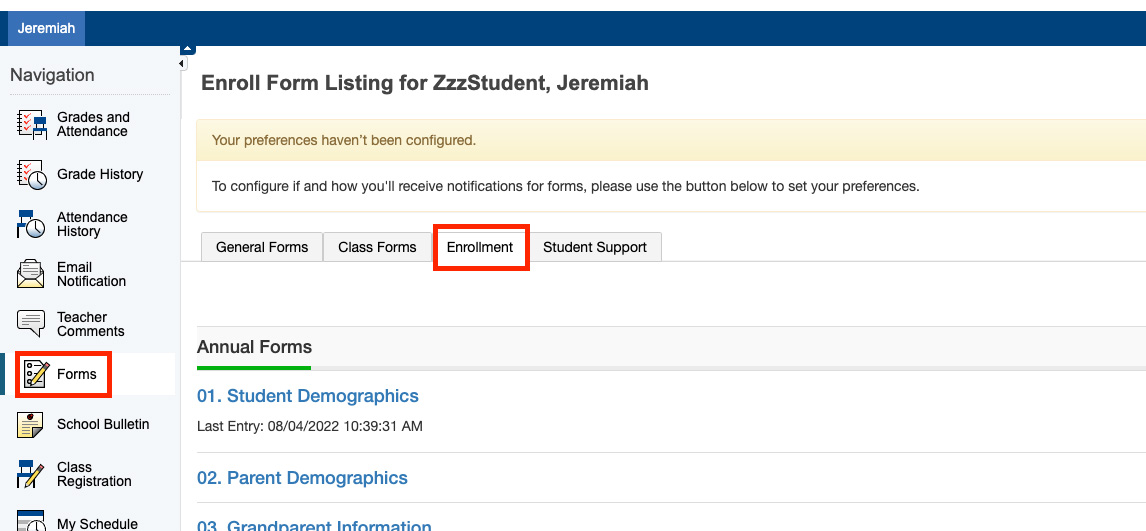 4. Begin with the demographic form and it will move you automatically through the rest of the forms.
5. The forms generally populate with last year's information, please take time to ensure there have been no changes in information. Work can be saved and addressed at a later time. Each form must be submitted individually.
Student/Parent Handbook
Complete by Tuesday, August 1, 2023
Please take a moment to review The student/parent handbook.
Signing off on receipt and understanding of our policies set forth in our handbook is done via the Powerschool annual forms linked above.
Items needed from parents of new students:
By Tuesday, August 1, 2023:
Proof of your child's immunizations

Completed OFJCC Membership Form (only the highlighted yellow question need to be answered, no need to submit payment)
Please submit above to Elaine Wilhelm by email (ewilhelm@kehillah.org)
KINNUS, ALL SCHOOL RETREAT
We are excited to kick-off the year with our all-school retreat! The first day will be at Mitchell Park as and t he second day will be at Kehillah. Seniors will enjoy a Shabbat overnight in beautiful Walden West in Saratoga! More information at the link below.
ALL KINNUS WAIVERS ARE IN YOUR POWERSCHOOL ANNUAL REGISTRATION FORMS – Linked above.
ATHLETICS
Practices will begin on August 23, 2023
Fall sports: cross country, soccer and girls volleyball
Student-athletes must complete the online forms and physician's health form (don't need the TB test) before they begin any practicing. The medical form can sometimes take a few days to complete. All physicals must be within 12 months, and turned in each school year.
For more information about teams and schedules: CLICK HERE
Click the button below for our Kehillah Athletics forms.